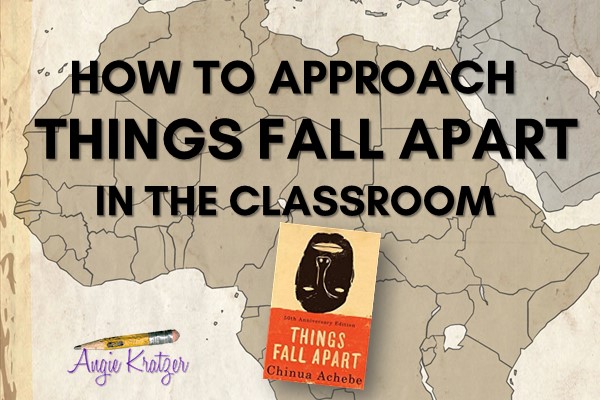 I miss Chinua Achebe's voice. When he passed in 2013, I grieved. After teaching "Dead Men's Path" and Things Fall Apart for my entire career, I felt like I had lost someone personally. My lesson plans for the novel in particular changed over the years, and my approach moved from a simple analysis of theme and symbolism to helping students understand the dangers of colonialism.
My Approach to Things Fall Apart Now
I focus on characterization, symbolism, irony, and theme; and we come at those devices from every angle. We even spend time on the controversy surrounding Christian mission work (touchy subject, I know, but an understanding of the braiding of colonialism and Christianity is important).
We hit vocabulary hard with acquisition and use activities for every chapter. (On Day 1, students learn to pronounce a number of Ibo words, and they love it. Name pronunciations are tricky, and I suggest learning to say them correctly. I give students a guide on the day I introduce Things Fall Apart. You could try search on YouTube to hear some native speakers, but I have found that most of the offerings are by people of European descent.)
We do a lot of writing. If you're already a follower of mine, you know that I'm a big fan of bite-sized writing assignments. Instead of jumping straight into a full-blows literary analysis essay, we hang out first on the paragraph level with a number of devices. I talk more about this in 4 Ways to Make Writing Instruction a Peaceful Process.
Because I'm a bit of a map nerd, so students learn to identify the countries of Africa. If something has to be cut, it's this piece, but we make it a game and keep it low stakes.
A Things Fall Apart Unit Plan
In my unit plan, I deal with the novel in roughly eleven lessons, some of which span more than one day, and I hold students accountable for outside reading during that time frame. I have three differentiated types of reading assessments. For weaker readers or students who need a high level of accountability, there is a half-page quiz for each of the 25 chapters. Average student who can manage several chapters at a time get four longer quizzes on chapter sets 1-6, 7-13, 14-19, and 20-25. For students who may be asked to read the book independently, there is a two-page objective test. In the unit I have on Teachers Pay Teachers, a key is included for each assessment. This final test may be used as a re-test for students who performed poorly on either set of quizzes.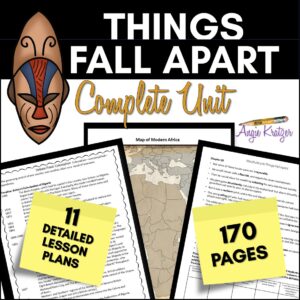 The eleven lesson plans in this unit are designed based on the four-section quiz set, so a teacher using one of the other two accountability methods will need to adapt the lesson plans to suit student needs. Because each lesson plan includes assessment, discussion, and writing exercises, a teacher may need two to three days for each one. (In other words, this unit could encompass 20 to 30 class periods depending on the schedule.)
Included as well are 25 vocabulary exercises, one for each chapter. Five to twenty words in context are provided in each exercise, and students are required to define and manipulate the words in some way. These exercises are optional but may be particularly helpful pre-reading activities for weaker readers or ESL students. They provide an excellent tool for differentiation in a heterogeneous classroom.
Flexibility of Sequence in Things Fall Apart Lesson Plans
Writing exercises can easily be executed within each chapter chunk, or they can be pushed back; for example, a teacher may want to deal with flashback as a literary device near the end of the unit, not after chapter 13.
A teacher who wants to spread the reading out might give a reading quiz each day but facilitate other non-novel content such as grammar or usage. This Things Fall Apart unit allows for that option.
The Lesson Plan Breakdown for Things Fall Apart
Here's how I map my lesson plans for the novel:
Lesson 1: Building Background Knowledge
Nigeria; Ibo Culture and Language
Map Work
Character Preview
Lesson 2: Setting in Chapters 1 through 6
Individual Chapter Quizzes
Chapter Set Quiz (1-6)
Vocabulary Workout
Literary Analysis: Setting
Smooth Text Use
Lesson 3: Characterization in Chapters 1 through 6
Methods of characterization
Characterization chart
Literary Analysis: Characterization
Lesson 4: Flashback in Chapters 1 through 13
Individual Chapter Quizzes
Chapter Set Quiz (7-13)
Vocabulary Workout
Literary Analysis: Flashback
Lesson 5: Chapters 14 through 19
Individual Chapter Quizzes
Chapter Set Quiz (14-19)
Vocabulary Workout
Africa Map Practice
Debate Point: Christian Missions
Lesson 6: Irony in Chapters 1 through 25
Individual Chapter Quizzes
Chapter Set Quiz (20-25)
Vocabulary Workout
Literary Analysis: Irony
Lesson 7: Symbolism and Theme in Things Fall Apart
Africa Map Test
Literary Analysis: Symbolism and Theme
Lesson 8: "The Second Coming" Paideia Seminar
Debate Point: Colonialism in Nigeria
Paideia Seminar
Post-Seminar Writing Assignment with Rubric
Lesson 9: Literary Analysis Essay
Lesson 10: Sentence-Level Revision
Sentence Combining
Sentence Variety
Transitions
Lesson 11: Introduction and Conclusion; Peer Editing
How NOT to Start from Scratch
If you're organized and ready for the meaty content of the novel but need help with the vocabulary or reading quizzes, I've split my unit into three pieces so that teachers can get what they need if the whole unit plan is just overkill.
Vocabulary (A vocabulary workout for each of the 25 chapters) Various research-based vocabulary acquisition strategies are used.
Reading Quiz Sets (25 Chapter Quizzes, Four Section Quizzes, One Did-You-Read-It test for the whole book) This resource is great for a teacher who needs options with different ability groups.
Lesson Plans (11 detailed lesson plans aligned with Common Core State Standards). Each lesson plan includes materials needed, standards addressed, "I can" statement, essential question, activator, teacher input, student active participation, and summarizer. All handouts are included.